Good morning everybody,
Earlier this month I asked the good people of Twitter whether they preferred downloads or physical copies of albums. The main reason behind this is that my third solo album (#soloalbum3) is coming together nicely and will soon be ready for release. So it's that time of year once again when I agonize over whether to get a load of CDs pressed or just stick to digital distribution.
A lot of artists and bands are struggling with this question now so I thought I'd drop a quick post here to share my thoughts and hopefully hear some of yours.
With two albums out already I have experimented with both formats. My first album Mandala was released in 2010 on CD and download. It was my first dalliance with Bandcamp and also the first time I'd been through the process of getting a physical product manufactured. So all very exciting. It was important for me to have CDs pressed for my first album, whether they sold or not, because it was something I'd always dreamed of doing. Sad but true. So I had 1000 copies made.
Which is a big issue for a lot of people. I didn't need 1000 copies. I am well aware that if I choose to make particularly esoteric music I won't be selling vast quantities of CDs. And given the kind of music it is (and if you haven't heard it yet but are reading this blog post I have no idea how you got here!) a download would be preferable to most people.
Here's the rub. It is the same price to get 1000 copies made as it is to get 500 made. And the price per unit is extortionate for anything less than 1000 copies. I have a lot left folks! Fear not if you don't have one yet; I shan't run out any time soon. Most people that did buy Mandala from my website (or iTunes etc) bought the download. I tend to sell the CDs on gigs but not so much online. I guess buying a CD from someone you have seen perform live is a very different and more tangible experience than going home after a show and downloading their album.
So when it was time to release my second album The Knowledge of Things To Come last year I decided to release it purely as a download. This meant that the audio quality of the music was higher across the board (24bit as opposed to 16bit squashed down for CD) and I had no production costs. I sold more digital copies of Knowledge than I did of Mandala.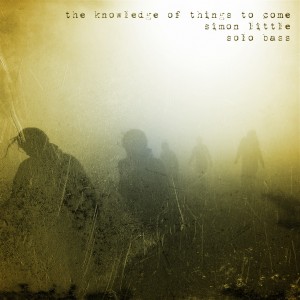 But I can't sell it on gigs. As a result I'd say that I have sold far fewer copies of the last download-only record than the one which is available on CD. After a chat with Grant Windsor on one of our long car journeys across the country with Ms Teal (#tealtour) I have been considering the idea of selling download cards at gigs instead. Now this is not a new concept. Bandcamp have been offering this facility for years and I know CD Baby also offer them to users. Basically I would be selling a little printed card with a unique download code which would enable people at gigs to go home and download the album. I like this idea because although you can tell people to go home and look at your website in nine times out of ten they won't. Or more likely they will have forgotten the address. Having a physical thing that you have paid money for to actually take home and utilize makes a big difference. I think..
So. It's over to you. I had a very mixed response form Twitter (@simonlittle). I was expecting the vast majority of Twitter users to prefer downloads. But a significant number of people stated they would much prefer a CD. Something to touch, keep, play in the car etc. I have started buying much more music as downloads, purely because 1. It's normally a bit less money, 2. I have so many CDs and I have very little room and 3. I listen to virtually all my music via my iPod wherever I am anyway. I haven't used a CD player for years so all the CDs I buy only ever get played into iTunes anyway. I do always buy CDs from certain artists. Peter Broderick, Kate Bush, Bjork and Tom Waits have all prompted instant trips to Fopp.
So which would you prefer and why? Do leave your comments here so we can have a little discussion. I'm intrigued to hear your thoughts…