It's Christmas Time!!!
Hello folks,
Oh yes, it's that time of year again! The time when the normal gigs simply dry up and are miraculously replaced by a plethora of festive extravaganzas. Having just got back from Maggie Reilly's tour in Germany, I have spent the best part of today thrashing away on a ukelele; an instrument I simply cannot play (yet). But, full of Christmas spirit, I shall persevere and conquer the little beast for your listening pleasure! Those of you who made it to one of Clare Teal's Christmas shows last year will probably have some idea of what I'm up to. Those of you that didn't, will simply have to wait and see…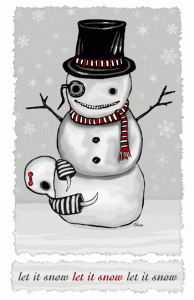 So this is just a quick little post to let you know about some of the Christmas fun we have planned for you this year.
I will be at Pizza Express Dean Street on Monday 6th and Tuesday 7th with Lea DeLaria to launch her brand new Christmas record Be A Santa (out now worldwide on Warner Jazz). These two nights are going to be fantastic and will more than likely be selling out already, so if you want to come along, get booking now! (0845 6027 017) We have Ian shaw guesting on the Tuesday show too. The band will feature Janette Mason on piano and Mark Fletcher on drums. It's going to be a riot…
And as soon as these shows are over, I shall be throwing myself headfirst into Clare Teal's Festive Fiesta!! Oh yes indeed folks; there's gonna be costume changes galore and some extreme multi-instrumentalism from all concerned. We don't like to make it easy for ourselves! We'll be playing just six shows this year. Here are the dates for your diary:
10th Exeter Barnfield Theatre
15th Burnley Mechanics
16th Pizza Express Maidstone
17th Farnham Maltings
18th Bath Chapel Arts Centre
19th Bath Chapel Arts Centre
These special gigs were a huge hit last year and we're adding even more Christmas stuff to the show, as well as the traditional 'greatest hits of 2010' set up front. Definitely book early for these shows; especially the two Bath gigs which were rammed last year and I'm sure we'll have some special guests somewhere on the way too. Keep an eye on my Twitter feed for updates…
And of course, with Christmas just around the corner, what better gift to impress your friends than a copy of my new solo album Mandala?! I'll be selling copies at all of the above shows too. Goes without saying really…
See you there. Must dash, I still need to learn how to play in Db on the ukelele  🙂 x