Hello folks
Just a quick post to let you know that a couple of my tracks were featured on this week's podcast by Jayme Lewis.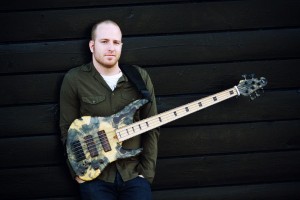 Jayme is a session bassist, producer and author over in Los Angeles. His website is a great place to start if you want to check him out. Which I strongly suggest you do. His tutorial videos on YouTube are always excellent and I've been listening to his podcast for a while now. He always plays great tunes on there and I've certainly discovered some fantastic music via the podcast. In fact I first heard the awesome Mister Barrington on Jayme's podcast about a month ago.
 Jayme got in touch with me a couple of months ago to see if he could include a couple of my tracks. Of course he could! In this week's episode he plays some mysterious song from The Knowledge Of Things To Come (which is still  available as a PWYW download via Bandcamp and iv from the trio record Foreground Music, Vol. I with Jez Carr and Mike Haughton.
It's always interesting to see which tracks people pick to showcase an album. To be honest I'd be hard pushed to pick a particular track from any of my solo recordings as an example of what I do when I'm playing solo. I think some mysterious song is actually a great choice now I hear it on it's own. That track contains a lot of the features that characterised the album for me so here's a big thumbs up for Jayme…
ps. Jayme, if you read this: the rhythm track you hear was the sound of me plugging my bass in looped up at the start, It is indeed all live from start to finish…
Here's One of Jayme's records for you to check out. It's available via those lovely people at Bandcamp.
 So, please go forth  and check out Jayme Lewis and all the great stuff on his website. Big thanks to Jayme for the feature. It's always great to know that someone appreciates your music and I'm in great company being featured on his Podcast.
Until next time…