How very remiss of me ladies and gentlemen. Now I know I posted at the beginning of our run at the National Theatre during rehearsals for the Double Feature, but have entirely failed to post anything since. I shall therefore redress the blog-balance with a little photo-blog. I shall endeavor to keep it short..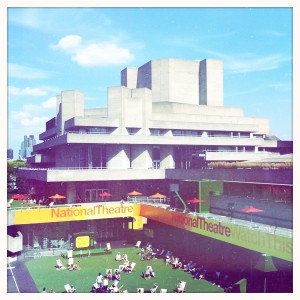 We finished the run of fifty shows just a few weeks ago and had a fantastic time. The band comprised myself on bass (and marching cymbals); Ben Castle on Sax, flute and sousaphone; Mark Edwards on keyboards and penny whistle and Phil Wilkinson on drums and tools.
The Double Feature was in fact four short plays; we would perform two each night on rotation, and all four on Saturdays when we had a matinee. The play was in the Paintframe which had been beautifully transformed by Soutra Gilmour into a new performance space, including a bar and foyer area. Our main function in the Double Feature was to perform in the foyer, and hand over between the plays and the changeovers as the performance space in turned around in the interval.
We were also on stage for one of the plays. We played a marching band during There Is A War by Tom Basden. We open the play by marching across a dark stage, self-lit by little lamps attached to our hats (oh yes indeed!)…
We cross the stage a further two times throughout the play, each time more bedraggled and beaten up by the war. By the final march, we have been robbed of our instruments…
We were joined by Dave Ohm on drums for the last few shows as Phil was off to get married. Dave and I have worked together a lot and it was really fun to have him in on the show.
We had a lot of fun during the Double Feature. I really love working at the National Theatre; it's such a great creative environment and everyone that works there is fantastic. I went for an audition there on Tuesday for a new production and got the job, so I'll be back there very soon rehearsing for The Comedy of Errors which runs between November and March in the Olivier. Can't wait!
I shall leave you with a little gallery of other pics I took during the run. I'm still obsessed with the Hipstamatic application for iPhone and these are some of the results. Until next time…