Well it's coming to the end of the year and I thought I'd better drop a quick post to let you in on all the latest news.
On Sunday we had the last of the Clare Teal Christmas shows at the Chapel Arts Centre in Bath. We'd already played the Christmas show in Southampton, Exeter and Maidstone. And in the traditional fashion, there were festive costumes involved for the big Bath show…
Yes indeed, it was my turn to be the Christmas tree this year folks. And let me tell you, it wasn't easy playing the bass in that outfit. And it was particularly tricky playing the bass, the ukulele and a kazoo whilst dressed as a Christmas tree…
Clare and Grant surpassed themselves once again with some awesome costumes. Inflatable outfits are quite clearly de rigueur this year…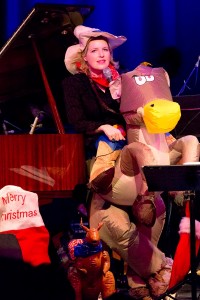 There are big plans for next years Christmas tour. Bigger and better than ever. Our next regular show will be at Pizza Express Dean Street on January 24th. Hopefully see some of you there…
As you should all know by now (and if you don't: shame on you!) the new trio record with Jez Carr and Mike Haughton  Foreground Music, Vol. I was released last week. It's been getting a great response and has already received a couple of lovely reviews. Check out Oliver Arditi's review in his Review Of The Year post. The album is available via Bandcamp for a mere £5.00. Gr grab yourself a copy.
And while you're at it, you should also check out the new EP by our very own Grant Windsor and drummer Richard Spaven. Their new project The Sure Co. released The Sure Co. 5ive on Jazz Re:freshed last week. You should definitely check that out too. It's also available on iTunes…
So that's the new music covered. Now onto the big news of the week. Tomorrow night I'll be playing Shepherds Bush Empire with Duke Special.It's gonna be a great show with lots of special guests and support from The Shellac Collective and Michele Stodart. We've got the big lineup reunited once more. Am currently dusting off the tailcoat and top hat. The Undertaker is making a comeback for one night only. Frankly, you should all be there…

I suspect this won't be the last blog of the year, but in case I don't manage to post again before Christmas; have a good one. I'll be upstairs at Ronnie Scotts on New Years Eve with Kai Hoffman's band Kai's Cats. Should be a great night.
Until next time…